Klass Honders, The Netherlands
Photos with a 30A passband, 3934A wavelength CaII, 100/1100mm (Russian MTO 1100FL Maksutov 4" scope).

Some of Tony's H-alpha photos of the Sun, including animated GIFs (very nice) using a 7" meade mak with a .45 daystar University filter, and imaged with a Nikon 990.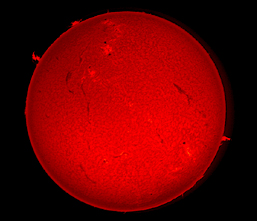 http://www.astrosurf.com/spectrohelio (French pages)
(http://www.astrosurf.com/spectrohelio/index-gb for direct english pages)
Some of Phil's spectroheliograms. This cluster of images was taken between August 1998 and 1999, mainly images in H-alpha and sometimes in calcium K-line. Phil is now taking the spectroheligrams in 3 wavelengths at any one time. We will have more shots of his equipment shortly as he upates me on his progress.

Here is an example of synoptic map which Phil made from his observations (or click here for a PDF file)


Highlights from Phil's 2002 Archives at http://www.astrosurf.com/spectrohelio/Archiv02.htm (Check it out!)
03-04

04-04

05-04

06-04

08-04

11-04

12-04

14-04

15-04

17-04

21-04

22-04

23-04

24-04

25-04
Joseph Perry Los Gatos CA, USA 1973;
solar disc detail at +0.5A H-alpha

Brian G. Manning, U.K. (Manning image system)
67" FL telescope, 106mm dia achromat 15mm sun image; TP 2415 film (300 lines/mm 3" solar detail barely resolved)
SHS on meter f.l.; grating 50x76 mm 600 gr/mm 5000A blaze
Wolfgang Lille, Germany
from his excellent 12" diameter, 9'FL "white light" telescope with a 4x projection from a 25mm Erfle eyepiece. This is interesting. His telescope has a single lens of 12 inch diameter and 9 ft f.l. He uses an Erfle eyepiece to project 4 times the prime focus image on TP 2415 Kodak film, then he enlarges the negative about 6 times, getting an excellent white light print of the solar granulation and of the sunspots themselves. So 9 ft x 4 x 6 gives a lot of equivalent f.l. He uses an interference green filter to get rid of the chromatic aberration. He gets excellent photos, about as good as by the professional observatories. He is at sea level, not on a mountain top or the Canary Islands. Neat!